MOVIES
VINTAGE HOLLYWOOD: Vintage Heritage Hollywood Classics Club is screening a Hollywood classic film  'Solid Gold Cadillac' of 1954. Screenings of English classics are held regularly.  On May 20, 11 a.m., at P. S. High School campus, Mylapore. Fee for non-members – Rs.200.
VINTAGE TAMIL: Love vintage Tamil cinema? Head to the meet at Russian Cultural Centre for a chat on the films of C. V. Rajendran, film maker who passed away recently. Followed by screening of his 'Galatta Kalyanam', featuring Sivaji Ganesan, released in 1968. May 20, 6 pm. Hosted by NTFAnS.
SHOPPING
UNIQUE, TRADITIONAL WEAVES: Silk fabrics woven in Mubharakpur are legendary. The weavers here have been practising these handloom silk weaving techniques since the 14th century. Their trademark style is satin weave with zari motifs. The Kota doria saris from Kaithoon in southern Rajasthan, where fine fabric was woven with a blend of silk and cotton with a unique checks pattern are also well-known. As is the Varanasi fabric.
Craftmark, which promotes these weaving clusters of Mubarakpur, Kota and Varanasi is now here in the city to showcase the fabrics. They are on sale at Shilpi boutique on C. P. Ramaswamy Road, Alwarpet. Till May 31, 10am to 8 pm.
THEATRE
CRAZY STUFF: Fans of Crazy Mohan and group? Then catch their latest play 'Crazy Premiere League' which is a string of the popular sections of all their plays. A mix at T20-paced comedy on stage to mark Crazy Creations' 40th anniversary. At Narada Gana Sabha, May 19 evening; at Music Academy – May 20, 4 pm; at P. S. School hall, Mylapore – May 20, 7 pm. Ticketed shows.
MUSIC
CARNATIC MUSIC: Raga Sudha in Luz hosts a series of Carnatic music concerts through the week. To list a few – Ashwath Narayanan on May 19, 6.30 pm; Kalyanapuram Aravind, May 20, 6.15 pm; Akshay Padmanabhan – May 24, 6.30 pm.
WORKSHOPS
ART AS STRESS BUSTER: Aavishkar hosts a workshop that shows you how art can relax you when stress gets you. Try your hand at making designer mirrors – can also be little gifts. May 20, 3 pm onwards. Call 9940056618.
FOR KIDS, ADULTS: The Art Room is abuzz this weekend – explore the Indian art form of shadow puppets (7-14 years) and on Sunday, adults work on  acanvas with a palette knife (18 years upwards). No background in art required for either of the workshops, only faith required in the quiet power of colours, says the host. Call 7550071255 to register and pay.
DANCE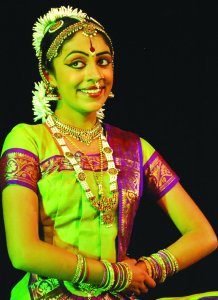 BHARATANATYAM: Dance rasikas may want to encourage these two young Bharatanatyam dancers at Natyarangam's concerts this May 20 evening at Narada Gana Sabha, Alwarpet. First concert by Roopa Guha, disciple of Chitra Chandrasekhar Dasarathy followed by Divya Hoskere ( seen in the photo) , disciple of Praveen Kumar.