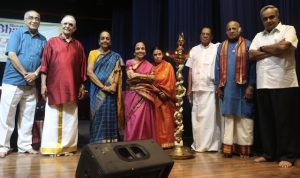 A few legendary artistes of Carnatic music were honoured at the Bharatiya Vidya Bhavan Chennai Kendra's diamond jubilee music series by a few celebrated senior vidwans at a function held at Bhavans on Tuesday, June 5.
Mridangam maestro Umayalpuram Sivaraman did the honours. The greats who were recognised were Vikku Vinayakram, Trichur Ramachandran, Bombay Sisters, A K C Natarajan, T V Gopalakrishnan and A. Kanyakumari.
Then followed the first of a series of concerts by the greats – this evening it was by violinist Kanyakumari.
The zing was missing in the event that was part of a milestone. Bhavans needs to have a team that presents its programmes better since it takes much effort to curate a host of events of its own.