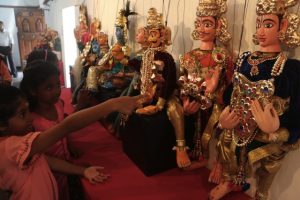 EXHIBITIONS
KARNATAKA PUPPETS
Dhaatu Puppet Theatre presents an exhibition, 'Scenes from the traditional puppet theatre of Karnataka', at the C. P. Art Centre, Alwarpet, till June 9 from 10 am. Ph: 9444073008
STUDENTS' ART
Komal Savla and her students will present their painting skills in various mediums such as acrylic, soft pastels, poster colours and oil pastels at the 4th annual art exhibiton by Kalakar Studio-Rang De 2018.  From June 9 at the C. P. Art Centre, Eldams Road, Alwarpet, 10 a.m. Part of the sale proceeds will be donated to charity.
OF ODISHA
Traditional art works of Odisha such as Pattachitra, palm leaf paintings and rudraksha are on display at the Odisha Arts and Crafts exhibition till June 16 from 10 am. Munna of MR Creations is organising the expo at Sankara Hall, at 267/281, TTK Road, Alwarpet. Ph: 9884446747.
MUSIC & DANCE
LEGENDS PERFORM AT BHAVANS
Bharatiya Vidya Bhavan, Chennai kendra is organising the Carnatic Legend Music as part of its diamond jubilee celebrations.  The concert series is on till June 15  at the Bhavan's main auditorium in Mylapore. Open to all.
RUSSIANS PERFORM
Orkhidea, a group of Russian artistes from Moscow will present various dance forms, including jazz and modern choreography on June 10. The event will take place at the Russian Cultural Centre at 74, Kasturi Ranga Road, Alwarpet. For donor passes, contact 9884852666.
SHOPPING
SARIS FROM M.P.
Sarees from Madhya Pradesh are up for sale at Mrignayanee store till June 17 – at 180 Luz Chrch Road, adjacent to Navashakthi Vinaygar Temple, Luz. A 2 per cent discount is being given on  all sarees.
EMBROIDERED & KUCTH
Kutchi Bandhej displays  handmade textiles and artistic embroidery on sarees, dupattas, kurtis and cholis at an expo at C P Art Centre, Alwarpet, till June 10 from 10 am to 9 pm.
EAT & DRINK
SEE KAALA, DINE FOR A DEAL
Don't throw off your 'Kaala' movie ticket after watching the film. With the ticket you can go to Clarion Hotel President, Mylapore, and avail a 50 per cent discount at the restaurant. The offer is valid till June 20. Ph: 8939838103.
MISCELLANEOUS
VOLUNTEER
Loka Dharma Seva Foundation Trust is organising its monthly temple cleaning at Apparswamy Temple, Mylapore on June 10 from 9 am. You can volunteer here. Ph: 24981559/9444381476.
ART WORKSHOP
A workshop for adults on Madhubani paintings. At The Art Room on June 10 from 10 am. Fee, including materials is Rs 1800.  To register 7550071255 or emailtheartroomchennai@gmail.com