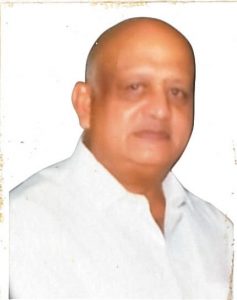 T. M. Srinivasan, a multi-faceted Alwarpet resident passed away on June 1 after a prolonged illness. ( photo on left)
He was a pioneer in South India in the cable manufacturing trade and as an entrepreneur, had set up the fairly well-known Falcon Wires company, in addition to Vinyl General Industries – in Guindy and in Ambattur in the city.
His education couldn't have been more different. He studied International Law at the London School of Economics and was a keen music enthusiast.
He was instrumental in shaping the Madras Cricket Club in its transition years and served as club president as well as secretary in the 1970s.
Known as 'Pappan' to his friends and family, he supported a number or religious and charitable causes and served as trustee of several institutions including M. Ct. M school.
He is survived by his wife Malini Srinivasan and three sons –  Karthik Srinivasan, Deepak Srinivasan and Anil Srinivasan.
Contacts – 24352208 / anil.srinivasan@gmail.com
B. Sathiyamurthi  (84), a long-time resident of Mylapore passed away on May 31 at his residence in Mundakanni Amman Koil  Street. He was regular at Sri Kapali Temple's pradoshams and was an active member of the local TAMBRAS unit.
He is survived by his wife, son and daughter and their families. Contact – 9894940802
P. R. Meenambal who was a resident of CIT Colony, Mylapore since 1956 passed away on May 4.
Meena Mami as she was known moved to Mylapore in 1950s and had been actively involved in development of CIT Colony.
Her daughter Kalyani Muralidharan says that theirs was the fourth house in CIT Colony and that her mother formed an informal club to socialise and was actively involved in organising activities for the children of the colony's residents then.
She leaves behind three sons and two daughters and many grandchildren.  The family's address is 14/12 Second Link Street, CIT Colony, Mylapore. Contact phone; 9500144940
Prema Murthi, also known as K. L. Prema among her friends in school and college, passed away in Los Angeles, USA on May 14, aged 70.
She was the daughter of artist K. G. Lakshminarayanan (Ravi) and Lalitha Ravi, longtime residents of Mylapore, and was a student of Lady Sivaswami Iyer Girls' High School, Mylapore and Queen Mary's College, Chennai.
Prema had travelled widely and was an ardent collector of curios and artefacts. She is survived by her husband Krismurthi, son Ravi and grandchildren who live in Los Angeles.
Contact her sister Rajalakshmi at R. A. Puram. Phone: 9176315270.