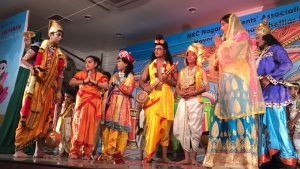 The 'Sangamithra-MRC Fest' hosted by the residents of MRC Nagar on July 14 was nothing short of an extravaganza. The highlight was 'Parvathy Kalyanam', a drama staged by more than 70 members of the community with 12 dances choreographed by a resident Aruna Vishnu.
What started last year in Sep 2017 with Sathvika Pashupathy, a resident, penning the script was followed by up more than two months of voice recording, dialogue sessions and several practice sessions led by the team members. And that was not all, the grand costumes and probs added the much needed zing to the event.
And to top that, the residents of the community walked away with the satisfaction of having hosted a zero-waste event. No plastic was used, food and drink were served in steel plates and tumblers. All the food waste was taken to the local compost bin.
Reported by Jayashree Sundaresan, resident, Rani Meyammai Towers.