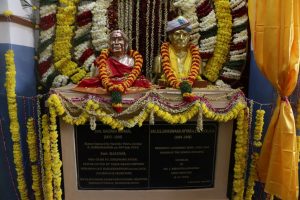 A panchaloka bust of Lady Kalyani Sivaswami Ayyar (also known as Kalyani Ammal), wife of Sir P. S. Sivaswami Ayyar, was unveiled at Lady Sivaswami Girls School, Mylapore on July 30 morning.
The principal of the school, Rubi Puthotta, says, "There are four schools at Thirukattupalli, Tanjore district, managed by N. V. Narayanaswami, the grand nephew of Lady Kalyani Sivaswami Ayyar. A bust was donated by him to mark the 150th year of our school. It was installed right next to the bust of Sir P. S. Sivaswami Ayyar located in the school lobby."
The 150th year celebrations, she says, will go on for a year.
More than 1500 people, including staff and students attended the event yesterday which started off in the morning with three homams. Later the statue was unveiled by the chief guest R. Subramanian, Judge, Madras High Court. Lunch was then served to all the attendees and the students of the school.