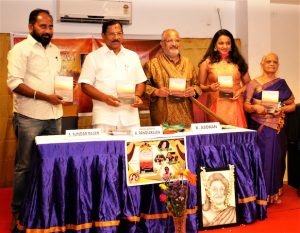 S. Sundar Rajan, a chartered accountant spends his 'off time' writing short stories. He recently released a collection in the form of a book titled 'Eternal Art' in the presence of state minister K. Pandiarajan.
Rajan says his book 'has a variety of stories from nature, real-life and fiction and will attract
readers of all ages alike.' He has already published a book of poems titled 'Beyond the Realms.'
Rajan's other service is to plant saplings in the neighbourhood.
His office at 11, Crescent Avenue Kesavaperumal Puram, Chennai – 600 028.
For copies of' Eternal Art' and 'Beyond the Realms', contact the author – 98410 35185 or e-mail to – raysofsundar@gmail.com