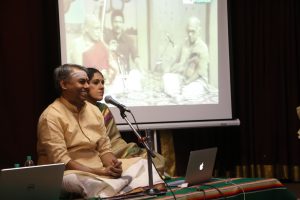 Semmangudi Srinivasaiyer stands tall in the Carnatic music world. And on two days earlier tbis week, rasikas, musicians and well wishers attended an event held at Raga Sudha Hall, Luz to remember the vidwan's music, his career and his contribution.
Violinist, guru and scholar R K Shriram Kumar ( photo featured here), on one evening gave an elaborate talk which was peppered with clips of music and visuals of the master, to illustrate Srinivasaiyer's music, his signature songs/tunes and his standout contributions.
Two groups of artistes – one of women and one of men vocalists – sang at two short concerts.
But the highpoint for rasikas who soak in vintage Carnatic music was the Day One concert – Prof T N Krishnan and daughter Viji on the violin. It was perhaps a musical tribute to this veteran violinist's senior of a different era.
A few who had to leave midway through the concert have been asking the host if they can listen to a recording!
The 'Semmangudi 110' remembrance event was ideated and presented by PSN Disciples – the large group of sishyas who learn from guru P. S. Narayanaswamy (PSN).