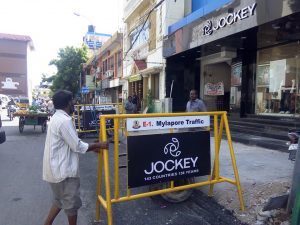 Are more and more retail stores, restaurants and banks 'cornering' street spaces for themselves on the three Mada Streets?
Pedestrians and motorists who care for public issues say the answer is 'yes'.
C S Baskar mailed us a photo shot this past week of men using road dividers to mark space for the newly opened Jockey store on East Mada Street.  ( seen in the photo) The dividers carry the name of this inner wear brand and of the Mylapore Police. Ostensibly they have been produced to help regulate traffic – mada streets are declared 'one way' and police man the regulation only at peak hours.
But the store uses them to set apart space in front of its gates – for its clients' parking and visibility.
Bharatiya Vidya Bhavan is also pulled up by civic activists of using dividers to set off space off its entrance and that this causes traffic jams, especially when there are popular programmes here.
Restaurants on North Mada Street are also accused of cornering space for clients, using dividers.
Photo: C S Baskar