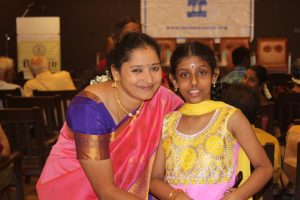 For many years R.A. Puram based Lakshmi Mohan has focussed on two passions – writing on mental health and therapy and employing music and the arts as a means to address psychological and related problems in the young.
She says the latter has yielded results. As a music therapist for people with autism and founder of Sowmanasya, which spurs her work, Lakshmi has worked out of herb home and in some city spaces that make less abled people happy and abled.
Now Lakshmi has opened a art therapy centre in Kilkattalai. "The goal is to provide my experience to people in the suburbs," she says.
'In my 15 years of experience working with people with autism, I have realized that my curriculum is helpful in dealing with emotional, mental, physical and psychological imbalance of these people," she says.
The curriculum includes vocal music, slokas, chanting, music on the key board or mridangam, reciting the Vedas, art and gardening.
Lakshmi Mohan is also a Thamizh writer and has authored 30 books – short stories, books on music therapy,  and curriculum tests for publishers and NGOs.