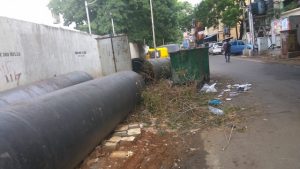 Civic conscious residents of Thiruvengadam Street in R A Puram say that a bunch of  massive, new  storm water pipes are lying on the roadside and now pose a nuisance for pedestrians since they are on the pavement.
These pipes are said to have been dropped here for civic work much of which was completed in this area. A bunch of pipes have been lying here for months.
Resident O P Thyagarajan says "these pipes can be lifted by Corporation and can be better utilised elsewhere. Most of the walkways are occupied by cars and  motorcycles garage and hawkers and we have no place to walk on."
He says many online plaints filed on the Chennai Corporation web site have been closed as if to show that they have been addressed to.