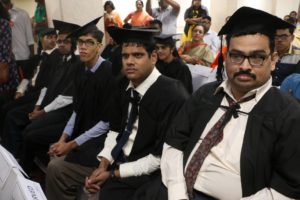 Aug 4. The special children of V-Excel Educational Trust have gathered at Hotel Savera, Mylapore for their Graduation Day.
They have contemplated for days on which suit to wear. The big day is now here. With black robes and well fit caps on their heads, they wait, excited. Their name would be called out soon, it would be their turn to get the degree.
The chief guest Viji Santhanam, chairman, Sundaram Finance arrives. The programme begins with a video on the journey taken by these young adults. Later, the graduation certificates are presented.
The event ends with a music performance by the members of the BEAT choir.