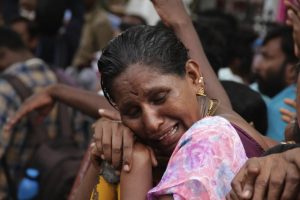 6.10 p.m.
That is when the world was officially told that DMK leader M. Karunaidhi had passed away at the Kauvery Hospital off TTK Road, Alwarpet.
Less than 24 hours after the hospital said that the DMK leader's condition was in decline, indicating that things were not good at all.
As news had spread last evening, hundreds of party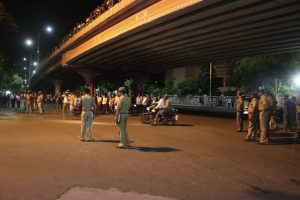 cadres gathered at the hospital gates to keep vigil and then broke down, cried and chanted slogans when the death was announced.
The local area was firmly secured by the police.
Late on Tuesday night, the body of the leader was moved to his Gopalapuram residence; the funeral is planned for Wednesday evening.
Shops closed as the news of the death spread and traffic thinned after dusk. Even the busy Luz Circle and Mada Streets were empty after 8 p.m.
Some cadres offered tribute to Karunanidhi by setting his photo on tables and lighting candles and oil lamps.
By 10 p.m. the roads of Alwarpet, Dr R K Salai, the Marina and San Thome were almost deserted.