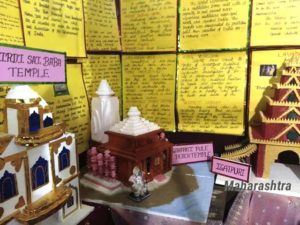 Queen Mary's College is one of the few colleges that offers a degree course in tourism and travel management. Every year, this department celebrates World Tourism Day which fell on Sept. 27 this year.
Tourex, as this event is called is one of the highlights of campus activity and is spread over two days.
Students of geography and of tourism formed teams to create and set up exhibits of well-known landmarks in India. These exhibits were set against charts and display boards with lots of information.
There was also music and dance at the venue – students attired in clothes of different regions / states of the country presented short performances of the region they represented. Snacks of different regions were also offered to guests.
Dr. Kumarasamy, department of geography, Bharathidasan University and Dr. Sriharan Balan, director, Madura Travel Service  were the special guests at the inauguration. Also present were college principal Dr. Shanthi, Dr. Bhavani, head of geography department and Dr. Nandhini and Dr. Geetha, assistant professors.
A brochure on employment opportunities in the tourism sector was also released at this event.
 – Report, photo by Varalakshmi Anandkumar