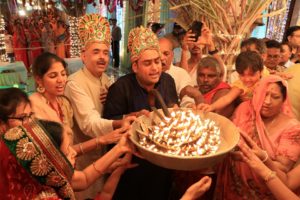 Thousands walked into the Jain Temple at Mathala Narayanan Road, Mylapore, on Monday, Sep 10 evening to take part in a celebration to mark eight days of Paryushan or fasting and prayers.
The temple, which was open till 2 a.m. on Tuesday morning, was decked up with flowers and lights. Inside the temple, the floors were decorated with colourful themed rangolis, some about temples, while others about jain traditions. Sugarcanes were tied up to the pillars there.
Rajshri Shah, a resident of Desikachari Road has been a regular at the temple for a few years now. She says, "The deities were decorated with ornaments, mostly semi precious stones like the onyx and swarovski crystals. We also had silver flowers polished with gold".
Two important rituals were observed yesterday, says Rajshri. "The first is the cradling ceremony, very similar to what is done during Krishna Jayanthi. In the evening, the idol of Lord Mahavir was taken out on a procession to the home of a devotee at R. K. Salai where poojas were done and bhajans were sung. The idol was brought back to the temple on Tuesday morning".
The other ritual she says is based on the 14 dreams of Lord Mahavir's mother. "At the temple, we have 14 silver idols of the sun, moon, a garland, animals, a golden vase and several others. The devotees choose whichever they want, place it on their head and circumbulate the hall on the first floor. It is their way of spiritually connecting with the deity".
The celebrations she says, will go on till Sep 13. On the last day, devotees will take on the role of a sadhu and will stay and fast at the dharmashala at the temple premises.