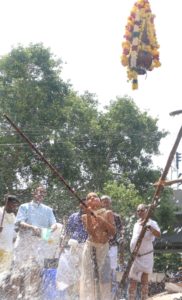 More than 4000 people, including women and children, gathered at Sri Nandalala Trust at Ranga Road, Mylapore on Sunday to take part in the Sri Krishna Janana Vaibhavam celebrations held there in the evening.
A senior member of the trust says, "The cradling ceremony is an important part of our annual three day Krishna Jayanthi fest. We perform the punyavachanam for Lord Krishna, a pooja in which a name is given to the deity. On Sunday evening, we were open way past 10 p.m.".
Today morning (Sep 3), young devotees were seen trying to break the earthern pots at the uriyadi utsavam (seen in the picture).
The celebrations ended with the vishnu sahasranama parayanam and oyyali today evening.