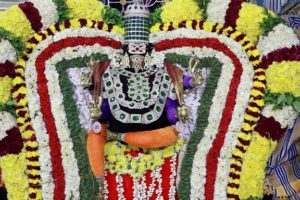 Devotees thronged to temples today morning to seek the blessings of Lord Vinayaka.
The deity at Sri Navasakthi Vinayaka Temple, Luz was decorated with huge garlands and shiny ornaments (seen in the picture). A special abhishekam was held today morning.
An unjal utsavam will be held at this temple on Sep 16.  The festivities are on at the temple till Sep 18. Concerts, discourses and debates will be held in the evening everyday.
At Sri Nandalala Trust, Mylapore, a pushpa alankaram and ratha utsavam will be held in the evening today.  The vidayatru utsavam will be held on Sep 14. Devotees can light a coconut deepam and achuvellam deepam. At Ranga Road, Mylapore.
At Sri Siddhi Buddhi Sametha Sri Karpaga Vinayaka Temple, the festivities are on till Sep 18. The deity will adorn a sandana kappu alangaram today evening after which a veedi purappadu will be held. Concerts will be held in the evening everyday. At 11, 2nd Cross Street, R. A. Puram.