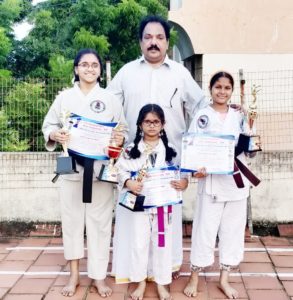 At the First State Invitational Open Karate Championship organised by Zenkoan Isshin – Ryu Karate – Do Association of India, three of out seven students who participated from Mylapore based Boufuuukai Isshrinyu Karate School won four prizes.
S. Sadhvi and S. Vaishnavi, both primary students at Vidya Mandir, Mylapore won the third prize at the kata event. Sindhu. R. S., a middle schooler at a city school won the third prize at both the kata and kumite events.
More than 500 students from all over the state participated in this event which was held in the city on Oct 7.
The school is headed by karate master A. R. Sundar who has more than three decades of experience in this field. He runs his school at three locations in the Mylapore area and can be contacted at 9840018628.