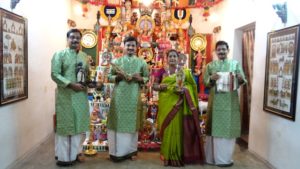 On the eve of Navaratri, the Mylapore Trio – Surendranath, Amarnath, Aparna – and Sugathan of Sri Sumukhi Rajasekharan Memorial Foundation conducted the 15th edition of 'Navarathri Kolu Paddhathi' workshop on October 7 at their residence at Mandavelipakkam.
They shared their experiences of putting up a good kolu in an aesthetic manner.
Surendranath explained the nuances of arrangements, decoration, themes, painting, repairs, gardening, packing and preservation, hospitality, traditional attire and on the significance of kolu.
Dr. Amarnath who teaches history shared the experiences of being the judge of kolu contests and on the dos and donts of a kolu.
Aparna spoke about the importance of hospitality and the need to follow tradition and respect it.
Sugathan gave tips regarding purchase of dolls. He said that dolls which were not part of Indian mythology and tradition should be shunned.
The Mylapore Trio have been putting up large thematic kolus for nearly a decade till last year – in famous temples like Sri Kapaleeswarar Temple, Mylapore, Sri Parthasarathy Temple, Triplicane, Sri Meenakshi Sundareswarar Temple Madurai, Sri Ranganathaswamy Temple in Srirangam and Sri Ramanujar Janmasthan, Sriperumbudur.
Their own kolu at their Mandavelipakkam residence is the 66th edition and this year the theme is "Lakshmi Kataksham". Amarnath says people may visit their kolu this season, after prior intimation.
Call 9381038385.
Address: No 5, Third Trust Link Street, Mandavelipakkam.