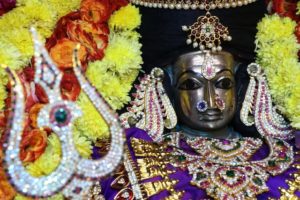 The buzz of Navaratri has begun and evidence of it was all over Mylapore on Wednesday – rituals in temples, concerts by young artistes and invitations going out to neighbours to visit homes and take part in the celebrations.
At Sri Kapali Temple, volunteers here bring colour and solemnity to the festival with decorations. On Wednesday, we spotted a large kolam-like design on the floor made from sea shells and conches.
At Sri Kolavizhi Amman Temple, Mylapore the 'ambal' was richly decorated with flowers and special alankaram.
In the lobby of Bharatiya Vidya Bhavan, a simple kolu celebrates the Kanchi Mutt Periyaval.
The festival music series hosted by Kartik Fine Arts is held at its hall in Sringeri Mutt Road and teen artistes are on stage.
A music fest is also on at a large garden space in Alwarpet – Indira Ranganathan Trust is hosting this fest on C P Ramaswamy Road, next to the Niligiris store here. Every evening.