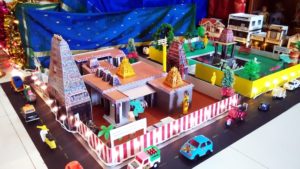 Shivkumar and Uma Shivkumar of Mandaveli have as the maim theme for their kolu Sri Kapaleeswar Temple and the tank apart from the traditional kolu arrangement.
They say the entire temple model is constructed using eco-friendly card board and papers along with few reused toys.
It features the main gopuram, rear gopuram, sannathis of Lord Vinayagar, Jagadeeshwarar, Annamalayar, Unnamulai Amman, Murugar and Navagrahams are depicted along with main shrine of Arulmigu Kapali and Devi Karpagambal.
The Navarathri mandapam, kodi sthambam, nandhi and goshala are also part of the display.
The couple say their theme emphasizes on social messages such as avoiding plastics inside temple, need to keep the temple clean, converting wet waste into compost in the park, and the one-way traffic system at the temple Mada streets.
To make it a complete eco-friendly Golu, snacks are served to guests only on steel plates. No plastic bags are used for offering sundal and no plastic containers for turmaric/kumkum are used. The visitors are given thamboolam with coconut, beetle leaf-paakku, fruits and Rs.51 as a gift.
The Shivkumars are at  – 3rd floor, Vikram's Nest, 14, Vinayagam Street, Mandaveli, Chennai.28
Call 98400 62722