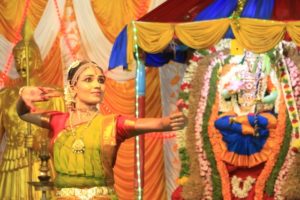 Sundal preparations by families celebrating Navaratri dominate the celebration this season but in some homes, people are turning to source freshly cooked sundal from food joints.
Which is why the cooks at the popular Mami's Mess on Pitchu Street in Mylapore are extra busy this festive season, ready to sell sundal through the day and take orders here.
Here is what we noted on Thursday of Navaratri events across the neighbourhood.
Elsewhere, at Sri Malleeswarar Temple in Mylapore, classical dance recitals add to the celebratory spirit here. Groups are lined up to perform here every evening. Photo here shows dancer Reshma at her recital in the temple campus.
Dancers are also performing at Sri Karaneswarar Temple every evening, the stage given to young dance students.
The Ambal  at Sri Virupakhseeswarar Temple was decorated with the rajarajeswari alangaram while at Sri Kapali temple the goddess was grandly adorned with the gowri alankaram.
At the Nandalala Temple on Dr Ranga Road, Mylapore children sang bhajans in the evening.