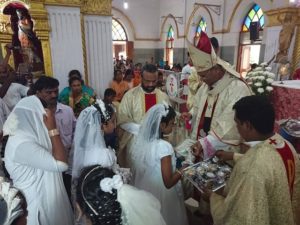 A special service called Confirmation, one of the sacraments administered to Catholics was held on Sunday, November 4 morning at Our Lady of Guidance Church ( popularly known as St Lazarus Church) in R. A. Puram.
Archbishop Rev Dr George Anthonysamy led the Holy Mass celebration and administered the sacrament.
Over 20 young boys and girls took part in the Confirmation service. Dressed in white clothes, they came into the church in a procession.
Says parishioner Cinthia Jude whose daughter received the sacrament, "Confirmation is the sacrament by which Catholics receive a special outpouring of the Holy Spirit. Through Confirmation, the Holy Spirit gives them the increased ability to practice their Catholic faith in every aspect of their lives and to witness Christ in every situation. It is the most important of all the seven sacraments."
Photo: Cinthia Jude