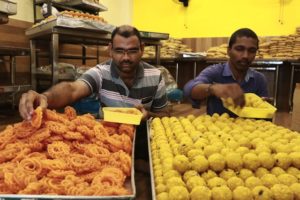 Mylapore's stores saw a big rush of shopping on Monday evening as people doubled up to shop for the Deepavali festival.
It was a sunny day, allowing shoppers to go about the last-minute jobs with some comfort.
The hawkers stalls and stores at Luz Circle were packed with people who do not have fat purses – they bought clothes, bangles and bindis and footwear.
The large clothes stores like Max and Nalli's were also filled with shoppers.
Children enjoyed shopping for crackers at the pavement side shops while other Mylaporeans crowded at restaurants to buy sweets. At Mami's Tiffin place on Pitchu Pillai Street, off East Mada Street, all the workers here were busy sorting out sweets made early that morning to fulfill orders.