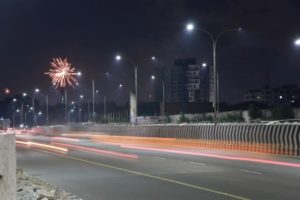 If there was one place to take a long look at the Deepavali celebration sounds and lights it was the Adyar Bridge on Tuesday night.
From this point, close to the place where Muthamizh Manram is located on the west side of the bridge, one could watch the sparklers and rockets go up in multi colours and light up the skies.
There were crackers that went up from the the Mylapore side and also from the Adyar side. They lit up the night skies on either side of the bridge and the location allowed people to freely watch the crackers burst and sparkle in the sky.