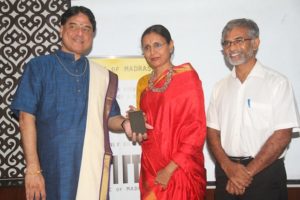 'Music of Madras' is a digital platform that has been conceived and founded by K. Kalyanasundaram, a Mylapore-based chartered accountant by profession who has combined his interests in music and technology to come up with this solution.
Released over a  year ago, this App will provide all information you need for this December Season.
The updated App was released on Monday by vocalist O S Arun and dancer Priyadarshini Govind ( seen in photo with promoter Kalyanasundarm)
Promoted by Tandem Consulting Pvt Ltd, this Android App which was launched in November 2017, has now been upgraded. A ticketing facility has been added whereby users can not only check out upcoming events in music, dance or drama in Chennai, but can also buy their tickets through the app itself.
 Users who are already using the app are requested to uninstall the app and download the Music of Madras app afresh from Google Play Store and App Store.                       .
In order to address the needs of different users, an iOS version for iPhone users and the website www.musicofmadras.in for users who are comfortable with laptops, desktops and tablets were also launched.
Noted vocalist O. S. Arun, as brand ambassador for Music of Madras, has provided valuable insights in developing the product, say the promoters.
The company has tied up with several leading sabhas and organisers for online sale of tickets for Season 2018 – it is offering cash back of 10% of the value of e-tickets purchased through the Music of Madras Apps or website.
For sabhas where only manual ticketing is possible, users can use the 'SMS for Ticket' option through the app and the tickets will be delivered to the user.
For free event listing, organisers can email the details of their upcoming events for free listing on the App.
For details, mail to musicofmadras@gmail.com.