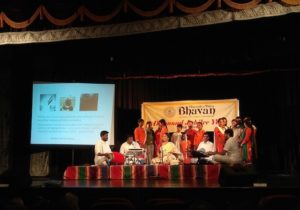 Armed Forces Flag Day was celebrated at Bharatiya Vidya Bhavan, Mylapore on December 5. A concert of vocalist Devie Neithiyar was organised here.
"This event got scheduled suddenly so our students had to practice hard while missing their regular classes," said Devie.
All songs were sung as a tribute to India's armed forces. Starting from the birth of a warrior to the time of their victory, theme songs were performed.
The audience were seen either tapping their feet or shaking their heads. Children dressed in India's tricolour sang jingles.
Rasikas later said that they liked the preludes to each song where the vocalist explained the theme and also the variety of songs.
Report, photo by J. Dheepthi