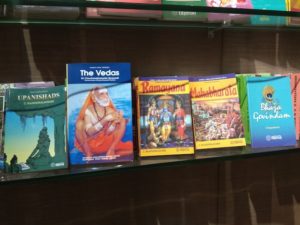 At Bharatiya Vidya Bhavan, the bookshop has returned in a new avatar – in the lobby. And now, the Pusthak Bharati is offering a 15% special discount this December season.
"The twin volumes of Rajaji's Ramayana and Mahabharata in English are in continuous demand. They have sold over 1.4 million copies," says a Bhavan's staffer.
"His unique and simple style of storytelling and thought-provoking opinions are key to the success of these books," says S. Lakshmi, who shops here. Both the books are priced at Rs.250 each.
Other works of Rajaji like The Bhagavad Gita (A Handbook for Students ), The Vedas, Upanishads and Bhaja Govindam sell well here.
The store also has various books on Indian culture, arts, history and literature. Open from 4.30 pm to 8.00 pm on all days. To order online visit www.bhavanschennai.org.
Phones of Bhavans – 24643450/ 24643420.
Report, photo by J. Dheepthi / Trainee