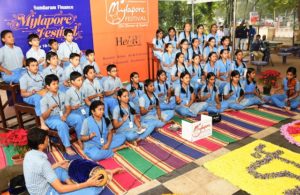 The annual Sundaram Finance Mylapore Festival 's 2019 edition has taken off with the first of four mikeless music concerts at Nageswara Rao Park in Luz.
The Chess Square had a group of students from Sir Sivaswami Kalalaya school singing mostly religious songs as a bunch of about 50 plus people sat and listened to them.
The concerts start at 7 am and end at 8 am; children are given a festival cloth bag and certificates.
Meanwhile, beautifully designed kolam-themed lanterns were hung along both sides of the East Mada Street for the festival that will be held from Jan 10 to 13.(
www.mylaporefstival.com
)
Later this Thursday evening, a few streets will come alive with sales, food and photo exhibitions.
The main stage on Sannidhi Street will host the major cultural shows.