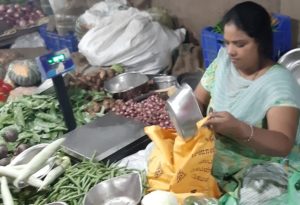 The 'Say No to Plastic Bags' campaign organised by Sundaram Finance on the Mada Streets in Mylapore began as 2018 came to an end.
Ahead of the ban on plastic bags, Sundaram Finance handed out 1000 environment friendly cloth bags to shopkeepers and vendors on the Mada Streets to educate them as well as the general public on the use of cloth bags.
Vegetable vendors on South Mada Street began using the environment friendly cloth bags, handing them to shoppers who did not carry bags.
Provision stores on Mada Streets are also using the cloth bags.