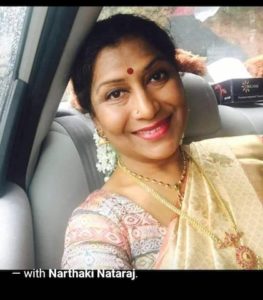 Mylapore-based Bharatanatyam dancer Narthaki Nataraj has been chosen for the Padma Shri award, among the civilian awards which are decided by the president of India.
Her name was in the list made public on the eve of Republic Day, January 25.
"I was on stage for a recital in Thiruvananthapuram when the hosts made the announcement, " said the dancer, minutes after she landed home to be greeted by sishyas and well-wishers at her VSV Koil Street apartment.
A native of Madurai, she took the name she now uses in the 1980s when she first performed as a female dancer ( she was born male). Narthaki braved lots of lows and adversities in early life even as she chose to pursue dance; her support then and now comes from her colleague Shakthi.
She trained under the great guru K. P. Kittappa Pillai in Thanjavur. Se also ran a dance school there and then moved to Chennai in 2000.
She is now a busy performer, sought for lec-dems and workshops that highlight the Kittappa school of dance that traces its style ( bani) from the famed Thanjavur Quartet; she has travelled around the world, performing.
She runs a dance school in Mylapore, with branches around the world.
Reach her at 24660413.
Photo; From Narthaki's FB page