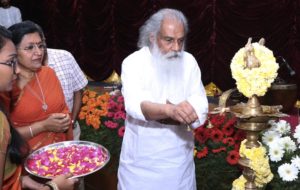 Sunday evening was a time to celebrate the music and life of a well-known classical music artiste who made a name for himself in this music as well in film music as a director – V. Dakshinamoorthy. The occasion was his birth centenary.
Popularly called Swami, and more known in the film world in south India, his daughter Gomathishree who resides in Mylapore got up an event at the Dakshinamurthy Auditorium inside the P S School campus on January 27 evening.
Singer K J Yesudoss and his wife were the chief guests – Yesudoss has sung the maximum number of songs under Swami's baton.
A short bio-sketch of Dakshinamurthy as as docu-film made by his grandson Dakshin was screened. Then, members of the music school that Gomathishree runs presented a few kritis that Dakshinamoorthy had composed
Though he started life, had his education and launched his career in Kerala, Dakshinamoorthy later moved to Chennai and made it big. All through his later years, he was also known to be religious.
The Kerala government has built a museum in that state that houses the awards, gifts and souvenirs of Dakshinamoorthy.
Gomathishree can be reached at 9841313544 / 9841265493.