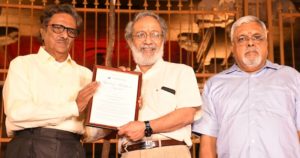 Legendary leg spinner V V Kumar was presented the Sundaram Finance 'Spirit of Mylapore' award by T T Srinivasaraghavan, MD, Sundaram Finance on Sunday evening at the final day events at the Sundaram Finance Mylapore Festival 2019.
Sundaram Finance had, in January 2009, instituted an annual 'Spirit of Mylapore' Award to recognise every year in January, one longtime resident or institution of Mylapore who / that has contributed significantly to the culture and heritage of Mylapore.
Tennis Legend Ramanathan Krishnan received the Sundaram Finance Spirit of Mylapore award in 2014.
Presenting the award to Kumar, Srinivasaraghavan said 'One of the finest exponents of the
difficult art of leg spin bowling, a consistent match winner in domestic cricket during the sixties and
seventies, and a mentor to many, VV Kumar is truly a cricketing legend. His cricketing exploits at
PS High School and Vivekananda College were beyond exemplary. He created history, becoming
the first bowler to reach the 300 and 400 wicket milestones in domestic cricket.
"His Test debut was no less impressive, with a match haul of 7 wickets, against Pakistan in 1961. This gifted leg spinner played only two test matches for India and we can only conjecture what he might have achieved had his test career been longer."
Kumar responded by sharing anecdotes of his Mylapore days at school, college and at legendary stores like Kalathi and at Sri Kapali Temple.
It was a short and smart event held on the main stage at Sannidgi Street between the cultural events slated for Day 4 of the annual fest.