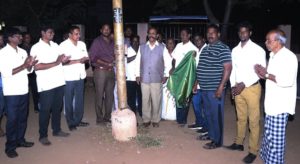 Mylapore MLA R. Nataraj formally switched on the high-mast lamps at the Chennai Corporation playground on St. Mary's Road, R A Puram this Wednesday.
It was an informal event. Eight lamps raised on the fringe of this popular playground light up the place allowing football and cricket players to play into the night.
Similar high-mast lamps are to be erected in the playground of Pallakkma Nagar, off Luz Church Road.
The playgrounds at South Canal Bank Road and off Brodies Road already have such lighting.