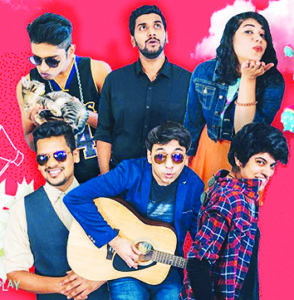 ENTERTAINMENT
COMEDY
Improv comedy collective 'Half Boiled Improv' where everything is made up on the spot based on the suggestions from the audience. Featuring Baggy, Maya Krishnan, Shravan Ramakrishnan, Rahul Sridhar, Harish Rajagopal, Amrutha Srinivasan, Naresh and Kiran Keshav.
On Feb 9, 7.30 p.m. At CurioPlay, 3, Ananda Road, Alwarpet. Ph: 97907 61906. Ticketed event.
SHOPPING
JAIPUR CLOTHING BRAND
Exhibition and sale by Naksh Jaipur, an ethnic clothing brand from Jaipur. Showcasing block printed kurtis, tunics, long dresses in casual and semi-festals. Sizes: XS-36 to XL-46.
On Feb 9 to 12, 10 a.m. At Sri Sankara Hall, TTK Salai, Alwarpet. Ph: 9768140111.
JEWELLERY
Valentine Jewellery collection by Minnie Menon. Featuring star garnet rings, pendants on pearl, chokers and star garnet necklace, handcrafted semi- precious stones.
On Feb 12, 7 p.m. At Mehta Jewellery, Abhiramapuram. Ph: 24662665
WORKSHOPS
CHOCOLATE MAKING
Learn to make pure vegetarian chocolates.
On Feb 14, 11 a.m. Fee: Rs. 3200. 20% off for couples. Ph: 9962048088/ 9381201984.
COOKIES
Learn wholesome cookies from scratch. By Shivangi Dhaga of Sweet Nothings. Taught from scratch. On Feb 14, 11.30 a.m. At Nithyashri Apartment, Flat 6C. 51 Chamiers Road. Call 9840713199 to register. Fee: Rs. 2250.
VALENTINE'S DAY SPECIALS
Learn clay modelling with a partner, at the Hands-on-Wheels: couples edition. On Feb 10,  5 p.m. Call 9500042435.
Arte de L'Amour  a conceptual "French Retro" themed Food Art Party for Valentine's Day with a specially curated dinner, costume party, game sessions. On Feb 14, 7.00 p.m. Call 9500042435.
For ages 16+ At Wandering Artist , 51, 6th Main Road, R A Puram. Ticketed events.
MISCELLANEOUS
HISTORY MEETUP
Madras Local History Group is conducting a meet-up at Marina Beach. Participants can bring memoralibia related to beach.
On Feb 9, 6 p.m. At Light House, Kamarajar Salai. Ph: 9940663670.
EPILEPSY AWARENESS CAMP
Epilepsy awareness session for women organised by Abhaya, a support group by EPI- CENTRE.
On Feb 11, 4.30 p.m. At Kavery Hospital, 7th floor, TTK Road, Alwarpet. Ph: 733878877. Open to all. Register.
BABY SHOWER FOR MOTHERS- TO- BE
Valentine's day special baby shower event for mothers to be. Programmes include antenatal workshop on tips for normal & safe delivery, physio dancercise/nutrition session, Valentine's day theme photo booth and fun game for couples.
On Feb 9, 2.30 p.m. At Motherhood Hospital, Alwarpet. Register: 9566143803.
SPA OFFER
Chennai Floats, floatation spa offers anniversary discount packages: Buy 1 and get 2nd at 50% off . Validity period differs for each package.
At 3/76 Krishna Avenue, 4th Street, Abhiramapuram. Ph: 48562285.
EATING OUT
CORPORATE LUNCH
Cream centre is introducing 'The Corprate Power Lunch' at Rs. 399 net.
On weekdays. At 55, 2nd Main Road, R. A. Puram. Ph: 42815777.