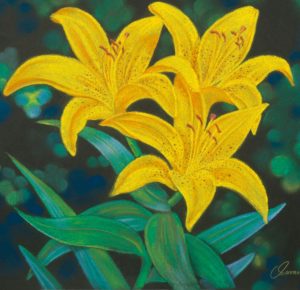 WORKSHOPS
PASTEL ART
Learn pastel sketching skills with trained artist Saravanan K. Take away your drawings and a personal pack of artist-grade pastel colours.
On Feb 23 & 24, 11 a.m. At Ashvita Bistro, 11, Bawa Road, Alwarpet. Ph: 9094187411. Fee: Rs. 2000.

ACRYLIC  PAINTING
2-day intermediate workshop in acrylic by Kalaa Manjari.
On Feb 17 & Feb 28, 10 a.m. At 6/12, 1st Street, Venus Colony, Alwarpet. Register:  9840421305 / 24312676. Fee: Rs. 2000.
WARLI ART
Learn to draw Warli figures & paint on a wooden base- take home a hand painted wall clock.
On Feb 24, 10 a.m. Fee: Rs 1800 inclusive of all materials. Ph: 7550071255.
STORY TELLING
World Storytelling Institute and the Chennai Storytelling Festival are organising basic story telling workshop. For cinema screenplay-writers, educators, psychological counsellors, communication, life, and soft skills trainers.
From Feb 24. At 7, Kasturi Estate 3rd Street (3rd Floor), Cathedral Road, Alwarpet.
ART. MUSIC. COMEDY 
CONCERT BY DIFFERENTLY ABLED
RASA an NGO presents 'Arulin Mozhi- The Voice of Grace', a program by 200 differently abled artistes from different special schools, on one spiritual theme.
On Feb 24, 5.30 p.m. At Narada Gana Sabha, Alwarpet.
NADASWARAM
Parivadini & Naada Inbam presents music concert. TKS Meenakshisundaram & TSN Sheshagopala (on nadaswaram), Dr. MR Vasudevan & TG Balu (on Thavil).
On Feb 23, 9.30 a.m. At Raga Sudha Hall, Luz. Open to all.
PHOTO EXHIBIT
InKo Centre presents 'The Alter Project' by London-based Korean photographer Chan-Hyo Bae as part of the Chennai Photo Biennale 2019.
On Feb 24, 6.30 p.m. At InKo Centre, 18, Adyar Club Gate Road. Ph: 24361224.
COMEDY
Counter Culture Comedy Club is hosting Mumbai based comedian Reuben Kaduskar's show 'True stories'.
On Feb 23, 7 p.m. At 16, 1st Cross St, Cooperative Colony, Sri Ram Nagar, Alwarpet. Ph: 9176666890. Fee: Rs. 399.
SHOPPING
SALE BY WOMEN
Women entreprenuer exhibition cum sale to commemorate Women's Day. Featuring  garments, home decor products and more.
On March 1 to 3, 10 a.m. At Andhra Mahila Sabha, 109, Luz Church Road, Luz. Contact: 42168979/ 24994761/ 9940010849.
SALE OF COTTON GARMENTS
Hamsa Boutique showcases dress materials, semi stitched materials, party wear, sarees and kurtis in pure cotton, block print, embroidered and digital print.
On Feb 22 & 23, 10 a.m. At C.P. Art Centre, Eldams Road, Alwarpet. Ph: 9843322110.
MISCELLANEOUS 
DISCUSSION ON LOVE AND RELATIONSHIPS
FabIndia Experience Series presents a conversation with three eminent couples on love & relationships.
On Feb 23 at 4 pm. At The FabIndia Experience Center, Alwarpet. Open to all.
TALK ON HERITAGE RICE
'Coffee and Conversation' series presents a talk  on benefits of consuming heritage rice by consultant dietician Dharini Krishnan. Organised by Spirit of the Earth.
On Feb 23,10:30 am. At Srinidhi Apartments, 4, Desika Road, Mylapore. Ph: 9500082142.
SHORT FILM CONTEST
The Ramakrishna Math is inviting people to produce a short film based on Vivekananda's message on one or more of six themes listed and win prizes. Open to all age groups. Film can be made in any Indian language with sub titles.  Duration: 3 to 8 minutes.
Submit before March 31. Website: https://events.chennaimath.org/vsfc19/
TALK WITH FILM MAKER
Talk with award-winning filmmaker-animator-illustrator Nina Sabnani on working with folk artists and about her award-winning books.
On Feb 23, 4 p.m. At Tulika Bookstore, Alwarpet.