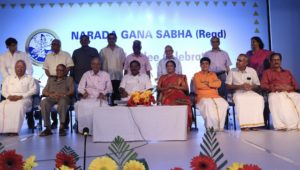 The finale of the year-long diamond jubilee celebrations of Narada Gana Sabha took place on Thursday evening at the sabha's auditorium on TTK Road, Alwarpet.
Thursday's event was formal and simple.
State minister K. Pandiarajan was the chief guest and dancer-guru Padma Subrahmanyam, arts promoter and businessperson Nalli Kuppuswamy and actor T V Varadarajan were special guests.
Pandiarajan outlined the initiative his Arts and Culture department has been taking the past recent years, mentioning the support extended to retired, poor artistes, recognition of artistes who excelled (the state-endowed Kalaimamani awards have not been given for many years now) and plans to take folk arts to the people.
Sabha secretary Harishankar Krishnaswami highlighted the history of the sabha.
Many speakers spoke at length on the immense contribution made by late S. Krishnaswami to the fortunes and plans of the sabha.
Also present on stage was sabha president R. Krishnamoorthy and others of the sabha team/Trust.
A number of music, dance and drama artistes were present as were many sabha members. The jubilee events began in February 2018. The finale of this milestone began on February 9.
Photo shows the sabha team with the guests of the evening.