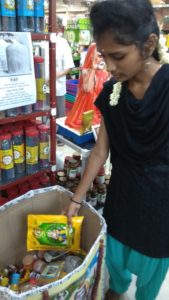 Giri Trading Agency, Mylapore is providing a facility for devotees to offer abhisekham items to the seven major Shiva temples of Mylapore on Mahashivarathri (March 4).
All the abhisekham items like rosewater, vibhuti, chandanam, gangajal, panner water are kept here at the ground floor in a separate section.
"Devotees can buy from this section and drop the same at this box, so far we have collected around 50 kilos," says a Giri staff.
"We have already got permission from all the seven temples. We will distribute the collected items one day before Maha Shivarathri ," says T. S. Srinivasan, director of Giri.
"If we get in excess, we will deliver them to other shiva temples in the city," he says. The box is kept on the ground floor of Giri complex near the main entrance.
At 14, Sri Kapaleeswarar Sannidhi Street, Mylapore. Contact: 24640376, 24642530 for further details.