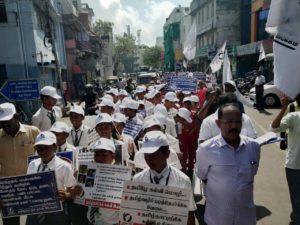 On Feb 21 morning, a rally was held from Mangolai to Thiruvalluvar statue in Mylapore by Tamilnadu Kalvi Iyakkam to commemorate International Mother Language Day.
Flags of the organisation were erected in the entire stretch.
Around 700 students, teachers and educationists from the various local schools and colleges participated in it.
They wore white caps and held placards with slogans that said: the medium of instruction in all the educational institutions should be in Tamil.
The importance of preserving the Tamil language was emphasised to the students during the rally.
"Quality education for children should be provided in Tamil, the language in which they think. It will help them to understand better," said P.M.Thirumalai Tamilarasan, one of the coordinators of the rally.
"Also, competitive exams like NEET should be conducted in his/her own mother tongue. We don't want to lose more aspiring students like S.Anitha who committed suicide as she was not able to qualify in the medical exam," he said.
This organisation which is based in Medavakkam works towards the preservation of Tamil language and culture.
One of their offices is at Mandavelipakkam opposite to St.Antony's Girls Higher Secondary School in Madha Church Road.