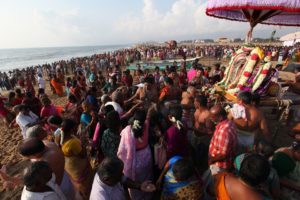 It was a pleasant surprise for the regulars when the Gods made their way to the sands of the Marina Beach on Masi Magam (Feb 19) this year.
Thousands were seen taking a dip in the cool waters there.
At Sri Kapali Temple, Mylapore, the procession started out a little after 9 a.m., the beautifully decorated deities were carried through Kutcheri Road and San Thome High Road. At the beach, cucumbers were offered as naivedyam to the deities.