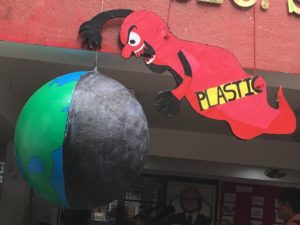 If you had dropped into M. P. Anandh School, Mylapore on Jan 12, you would have been welcomed by a giant globe, blackened on one side and hanging below a red 'monster' named plastic.
That and several other models and projects were put up to demonstrate the harmful effects of plastic at the school's annual project day celebrations held at their campus at CIT Colony, Mylapore.
The efforts of the students and the staff were evident from the display of charts on the walls. An informative project, there were some useful tips too.