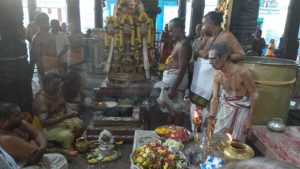 On Feb 15,  the Lagna Patrika for the Panguni fest to be held at Sri Kapaleeswarar Temple from March 11 was read. Many traditional rituals were performed before the reading.
The event started with a two hour long abhishekam.
The deities were decorated with flowers. Bunches of paddy (nel kathir), fruits and toy parrots made of betel leaves were hung up inside the pandal specifically put up for this event.
Five kilos of fruits, milk, curd, paneer water, sugarcane juice, lemon, sandal powder and other materials were used to perform the abhishekam.
Artistes played nadaswaram and thavil during the abhisekham.
The kalasa pooja followed. Later the lagna patrikai was read by the chief priest.
The lagna patrika included the dates and times at which the rituals will be held.