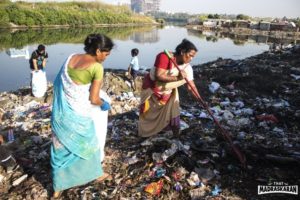 50 volunteers of the Zero Kuppai group lent their hands to a dozen off residents of Srinivasapuram as they did all they could to pack mounds of waste and plastic that had been dumped on the baks of the Adyar estuary over weeks.
The clean-up was held this morning and team leader Ashok Rajendran says about 1.5 tons of garbage was packed into large bags and will be disposed off by a private agency.
Zero Kuppai has been working in this zone for a long time now. Ashok says the major frustration is the refusal of RamKy, the private waste clearance agency to recognise the issue posed by this huge and dense colony and officers being cold to pleas to install more bins in inner streets, where lots of lots of housing units built illegally stand.
"RamKy has bins on the two main streets because it is easy for its staff to collect and dispose the waste here but that doesn't help so people dump on the massive mounds along the water front," says Ashok.
"Numerous complaints have been made to 1913 but nothing has happened," he adds.
Almost all residents who live in the shacks and single units that hug the state-built, worn-out housing blocks here are not fisherfolk; a large majority are families whose senior members have a day job or groups of youths who work at restaurants, stores and on construction sites.
Many have rented the shacks and live in abysmal conditions – open drains and garbage mounds fringe their one-room units.
Since Srinivasapuram is located at land's end from Foreshore Estate, a slice that has the estuarine waters on its west side and the sea on the east, senior civic officials rarely visit this place.
The MLA or local area officers come by when a promotional has to be conducted or the sea waves batter the walls of houses illegally built on the sand.