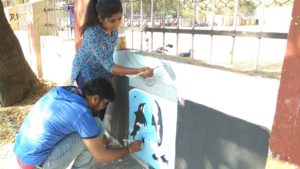 This weekend (Feb 23 and 24), the Environmentalist Foundation of India (EFI) and The Hindu newspaper jointly conducted a wall painting activity at the Greater Chennai Corporation (GCC) playground in R. A. Puram.
200 volunteers from various corporate companies, schools and colleges participated in the activity, said a volunteer at the event.
This activity took place from 7 a.m. to 11 a.m. on both days. The theme of the activity was water conservation and plastic waste management.
"The GCC officials asked us to paint here. Planning for this activity took two months," said G.Arumuga Siva, an EFI volunteer and a co-ordinator of the event.
"Chennai is facing a severe water crisis and so we chose this theme. We hope the wall art will raise public awareness on water conservation," he said.
EFI has been working for environment and wildlife conservation. It regularly conducts beach clean-up and lake restoration activities. Contact 9600954609.