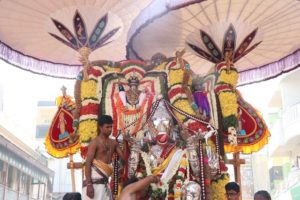 It is a little after 6 a.m. Outside Sri Kapali Temple, Mylapore hundreds of devotees have assembled. It is the third day of the festival, the day when the deity is taken out on a procession on the Adikara Nandi.
Inside the temple, the arrangements are almost done. The deities have been decorated with huge garlands and silk clothes.
Soon it is time for the deities to make their way outside the temple. The crowd moves forward, hoping to get a glimpse. Children who want a better view are seated on their parent's necks. A group of seniors are chanting hymns. Another group watch with folded hands.
The music from the nadaswaram and mridangam fills the air. The procession moves forward. Everywhere it stops, the devotees rush forward to hand over their offerings. The youngsters who have been pulling the vahanam take a little water break, the heat is slowly setting in.
All along the Mada Streets, vendors have set up their shops, selling everything from coconuts and flowers to balloons and paper fans.