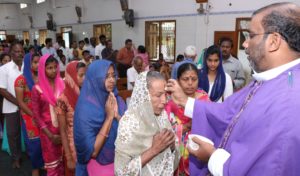 Christians attended Mass this morning since it was a special day in the church calendar – Ash Wednesday.
A day which signals the start of 40 days Lenten season, a time for penance and reflection coinciding with days that led to the suffering and death of Jesus on the cross.
At local churches, during the Mass priests applied a speck of ash on the foreheads of people to symbolise the fact that people come from dust and they will return to dust and thus, they must reflect on their lives.
This photo shows Father Joseph applying ask on the foreheads of people who attended Mass at Our Lady of Visitation Church on St Mary's Road in R A Puram.