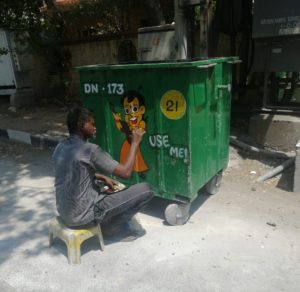 From March 4, a few garbage bins on Greenways Road, R.A.Puram are being painted with cartoon characters. Some of them also carry a message that says 'use me'.
Vinod Kumar, a RamKy supervisor of ward 173 has organised the painting work from expenses met from his own pocket. He says he has hired a local painter to do the work.
He says, "Even though there are many bins people are not using it. They are throwing the garbage near the bins. Some are also dumping them at street corners."
"Hence, to persuade more people to use the bins, I have started this work after informing the corporation officials," he says.
He also plans to paint all the bins in his ward in the coming days.