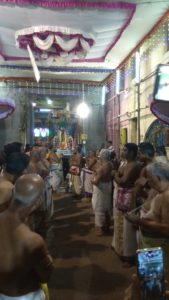 On March 29 evening, Lord Adi Kesava Perumal along with his consorts Sridevi and Bhudevi were taken out in mela pallaku.
This event took place as a part of the ongoing Brahmotsavam festival at Sri Adi Kesava Perumal Temple, Mylapore.
The priests sang nalayira divya prabandam before starting the procession.
Later, the deities were taken around the mada streets with the music band leading the procession.
The thiru ther celebration took place in the morning.
The festival will be on till April 1. On this day Sri Adi Kesava Perumal will be taken in a grand procession (periya theruvadaichan chapparam) with 33 alwars and acharyas.