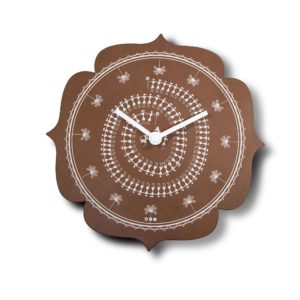 WORKSHOPS
WARLI ART
Warli clock workshop for adults on Warli art: learn to draw and paint Warli figures on a wooden base and take a hand painted wall clock. On March 31, 10 a.m. At The Art Room, C.I.T. Colony, Mylapore. Ph: 7550071255. Fee: Rs 1800, inclusive of all materials.
LEARN ABOUT TEMPLES
Tamil Heritage Trust is organizing a 'How To See a Temple' (HOWSAT) workshop. Includes lectures on temple architecture, iconography and inscriptions, followed by a visit to Sri Kapaleeswarar temple.
On March 30, 9:30 a.m. At R. A. Puram. Fee: Rs. 1000 – lunch will be provided. Contact Kishore: kishoremahadevan@gmail.com
BOTTLE MAKING
Bottle lamp making workshop by Woodooz Home Decors. Convert bottles into a utility product.
On Mar 30. At Aavishkaar's Work Space, C.I.T. Colony. Register. Paid event.
COOKERY
The SHARAN presents 'Whole plant-based diet workshop' by Neelima & Meenakshi.
On March 30, 11.30 a.m. At A4, Whispering Heights, 132, St. Mary's Road, Alwarpet. Register: www.sharan-india.org
FILM. COMEDY. DANCE.
FILM FESTIVAL
Hungarian Film Festival – Loop, hosted by Indo Cine Appreciation Foundation and Chennai International Film Festival (CIFF). On March, 5 p.m. At Russian Centre, 74, Kasturi Ranga Road, Alwarpet. Ph: 24990050. For members.
THAMIZH COMEDY
Lolaayi, an evening of Thamizh comedy. Featuring Mayandi, Soda, Suman Kumar. Hosted by CounterCulture Comedy Club Chennai. On March 31, 6 p.m. 16, 1st Cross Street, Cooperative Colony, Alwarpet. Paid event.
 DANCE DRAMA
Shadaksharam, a dance drama by guru Sheela Unnikrishnan's Sridevi Nrithyalaya Bharatanatyam dancers. On April 2, 7 p.m. At Sri Kapali Temple, Mylapore. Ph: 9840835825.
SHOPPING
DESIGNER SARIS
Hues presents launch of their summer collection, showcasing saris in linens, Tussar, block printed Kotas & more. On March 28 to 30, 10 a.m. At C. P. Art Centre, Eldams Road, Alwarpet.
TEXTILES, ACCESSORIES
Exhibition featuring saris and kurtas in Benaras brocades, jamdaanis, hand block printed Maheshwaris and Chanderis, Kalamkari, hand block prints and embroidery on Tussars, silks and cottons, embellished khadi, khadi denims, ahimsa silk and organic textiles by leading artisans and brands. Hosted by the Crafts Council of India.
On April 5,  10 a.m. At Welcom Hotel, Cathedral Road.
SUMMER SPECIALS
Little Summer Flea Market, hosted by Alana & Katy. Featuring clutches, jutties, denim-clad decor items, crochet tote bags and books covers, summer apparel and home décor.
On April 3, 2 p.m. At Curio Play, 3, Ananda Street, Alwarpet. Ph: 9600132421.
DESIGNER WEAR
Upto 20% discount on garments at Rekha's Boutique.
Sale is on till April 6,10.30 to 8.30 a.m. At G-23, Mookambika Complex, Road, C.P. Ramaswamy Street, Alwarpet. Ph: 24982556.
CRAFTS ON DISCOUNT
Upto 50% off on crafts sold at the Khadi Vastralayam stores in the area.
At 234, Ramakrishna Mutt Road, Mylapore. Ph: 24642365.
At 5, Venkatesa Agraharam Road, Venkateswara Nagar, Mylapore