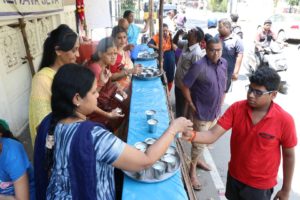 Every year, during the Panguni festival at Sri Kapali Temple, Mylapore, a few residents of Ranga Road, Mylapore get together to distribute buttermilk to thirsty passersby. And they have been doing this for two decades.
Vidya Vaidyanathan, a volunteer there says, "About 15 of us from Govardhan and Aditya apartments, all of whom are Sathya Sai Baba devotees, get together every year when the flag for the panguni festival is hoisted at Sri Kapali Temple. For about three hours in the morning, we distribute buttermilk. We have set up our stall right next to Sabari Book House on Ranga Road. We do this till the flag is lowered. On the day of the thirukalyanam we also distribute about 250 food packets".
Vidya explains the process. "We buy about 80 to 100 litres of milk everyday and since we don't have huge vessels to boil the milk, we hand over the milk packets to a hotel nearby. They boil it and once the curd is set, they also churn it using electric churners. We then add water, ginger, chillies, curry leaves and other spices and distribute it to the people who pass by."
The group also manages a 'Thaneer pandal' at the same location for three months, from April to June. Vidya says, "We place two earthern pots filled with water, each with a capacity of about 25 litres, for people to drink from. Auto and van drivers and walkers who are thirsty stop by to have a sip".
For details contact volunteer Kamala Seshadri at 9840708133.